Pronto Locksmiths is a name in the locksmith industry that you can trust. With over 15 years of locksmith experience no other locksmith is prepared to offer you the same level of expertise for locksmith Capalaba services. With an average response time of just 40 minutes Pronto Locksmiths is your perfect choice for emergency locksmith services. Give a call to us 24/7 to receive services including, replacement car keys, emergency unlocks and ignition repair services. IN non emergency situations you can rely on the years of experience and training that Pronto Locksmiths has to develop unique lock and key solutions for your home or business. With a range of locksmith Capalaba services available, Pronto Locksmiths is the only locksmith that you will ever need to call.
The automotive locksmith Capalaba services which are available from Pronto Locksmiths can help you to save a good amount of cash when compared to a costly trip to the dealership. Our locksmith comes directly to your location to complete replacement car keys and ignition changes. Not only will you save money by avoiding the towing trip to the dealership, but our professional locksmith will have you back out on the road quicker than the dealership can. With the average response time of just 40 minutes, Pronto Locksmiths can quickly get to you and have your vehicle back out on the road. Unlike dealerships, which can be restricted to just normal business hours, the locksmith Capalaba services form Pronto Locksmiths are available in emergency situations 24/7. Without causing any damage to the vehicle our professional will be able to open your car door and have you back inside, anytime of day or night. Call today to speak with our technician about which lock and key services are available for your vehicle. The professional locksmith Capalaba services are available for a wide range of make and model vehicles, including both transponder car keys and push to start systems. Contact Pronto Locksmiths for a no obligation free quote.
Automotive Locksmith Capalaba
Commercial locksmith Capalaba services are available to help business owners make sure that their commercial location is completely secure. The professional from Pronto Locksmiths has years of experience and training which help him to devise the perfect lock solutions for your business. Whether you know which commercial lock service you may need, like re-keying or lock change, or you want to upgrade your security but are not sure what is right for you, Pronto Locksmiths is able to assist you. There is no business too big or small to benefit from the range of commercial locksmith services which are available. Master key systems are one commercial locksmith service which can not only help to make your business more secure, but can also make personal access as a business owner much more convenient. A master key system allows for you to access every lock in your business with just one "master" key and also easily delegate individual lock access to each employee. Call to speak with our professional today about all the lock and key services which are available for your business. With over fifteen years of locksmith service there is not any issue or problem that our professional cannot solve.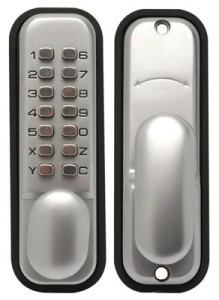 Simple lock and key fixes for your home may be possible to complete by yourself, however making a professional choice is never a bad idea. By having the professional from Pronto Locksmiths complete lock and key services on your home, you can ensure the longest lifespan for your residential security. Homeowners can also rest assured that our professional installation will be able to defend against would be thieves. There are a range of residential locksmith Capalaba services which can be completed for your home, both big and small. Depending on the needs of your family and your home, our locksmith may recommend services ranging from re-key to master key systems and high security lock installation. Upon moving into a new home or apartment it is highly recommended to have your locks re-keyed. There are two reasons for this; one being that it prevents anyone who previously had a key from reentering now that you are the resident and it also saves you money when compared with changing the locks since you do not have to pay for an entirely new lock set. For professional residential locksmith Capalaba services the number one call to make is to Pronto Locksmiths.
With a host of locksmith Capalaba services which are available for your home, business and automobile there is no reason to call any other locksmith. Our professional is available 24/7 to assist you with emergency services which will have you quickly back to your originally planned day or night. Over fifteen years of locksmith experience means that our professional will be able to come up with unique solutions for any lock or key issue. No obligation quotes are available to let you know exactly what the cost will be. You can count on Pronto Locksmiths to open your door without having to drill the lock thanks to our 99% lock pick success rate. To have your next locksmith Capalaba services professionally complete make the call to Pronto Locksmiths.
Pronto Locksmiths also offers service to the following areas: